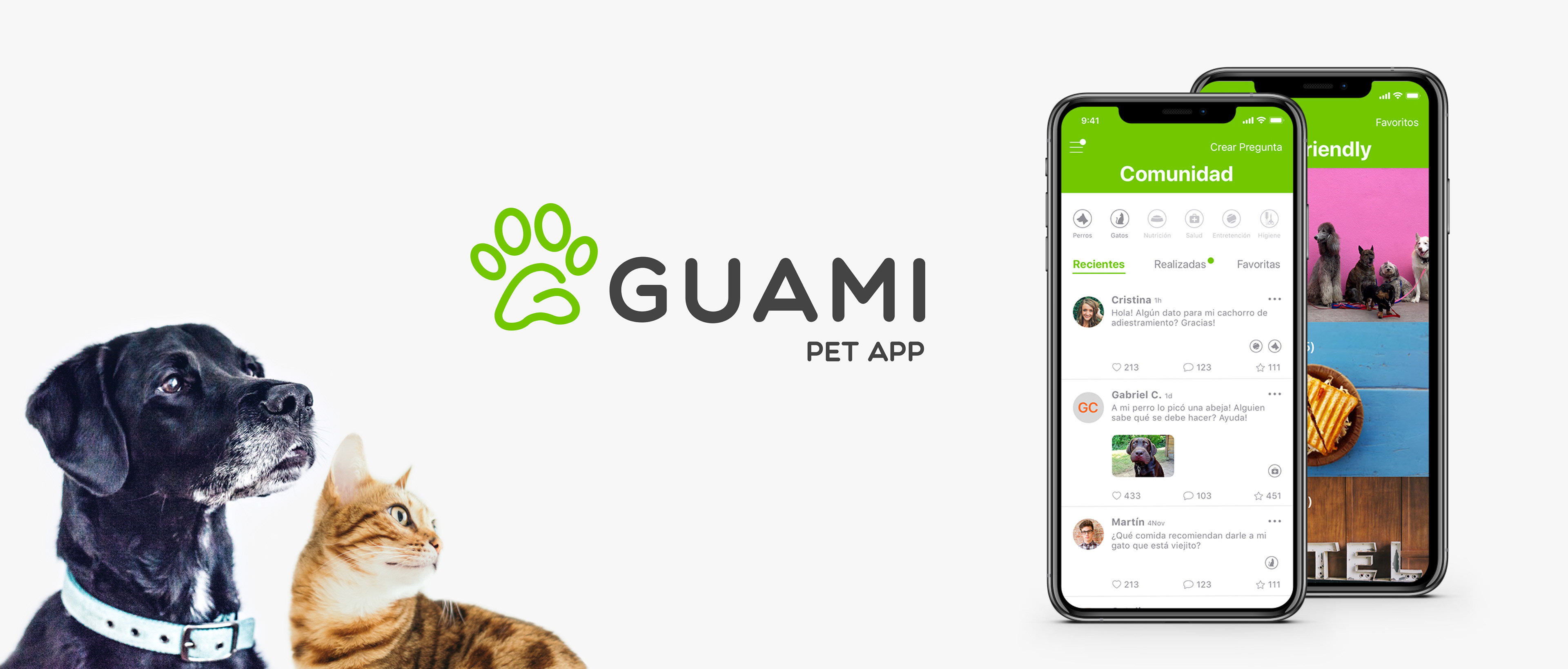 PROJECT
Guami, App for pet owners in Chile
ROLE
User
Research · UX · UI · Prototyping & Testing (UX team of one)
TOOLS
Sketch · InVision · Illustrator · Zeplin · Trello
DURATION 
2018 · 2020 (18 months)
More than 50% of Chilean people have pets, and their connection is strong, considering them as members of their families. Most of the time, they can't find information such as where to go with their pets, find veterinaries and pet stores, and find it hard to meet people with the same interests, affecting their daily lives experiences and emotions. That's why we created Guami, an app to facilitate pet owner's lives, build community, and promote responsible ownership.
I

t's hard for Chilean pet owners to search for information all in one place.

Even is hard to find info on different sites, and most of the time is by word of mouth. This influences their lives when not having a good experience,

 creates poor satisfaction and affects their emotions.

 
This project aims to create a platform for pet owners to
build community, satisfy and facilitate their lives
through different features. All of this focused on promoting responsible pet ownership.
As a
business opportunity,
we can get into the national market and be one of the top pet apps in Chile, considering the pet market and demand increase. In LATAM, sales increased from USD 6,075MM in 2012 to USD 10,893MM in 2017, equivalent to a 78% growth in 5 years
(Ochoa, 2018)
.
In Chile, between 2012 and 2017, the growth reached 92%, equivalent to more than USD 800MM in sales.
For the year 2022, USD 1,153MM of sales are projected
(Albertini, 2017)
, representing 8% of the projected sales for LATAM.
SETTING THE FOUNDATION
​​​​​​​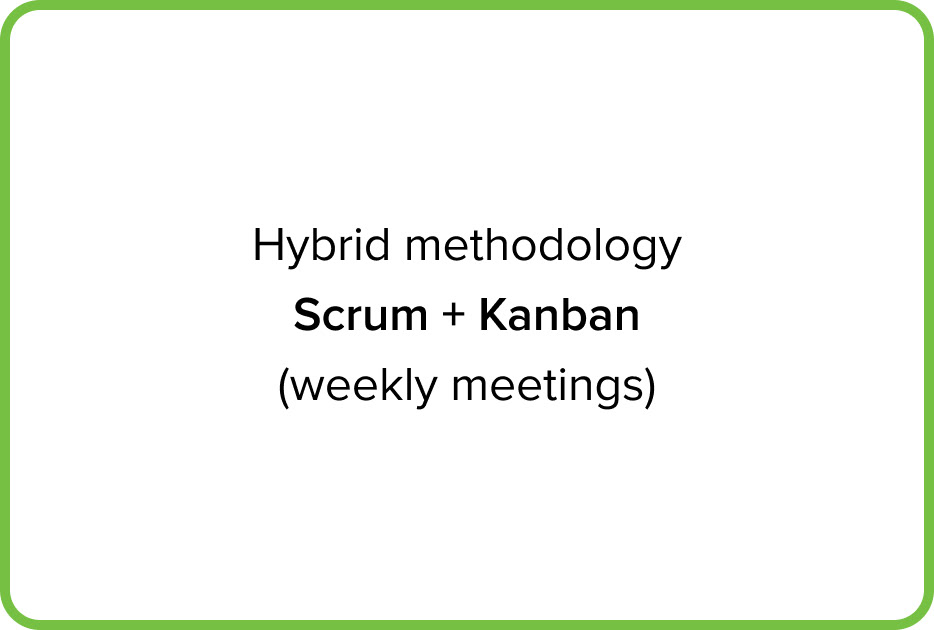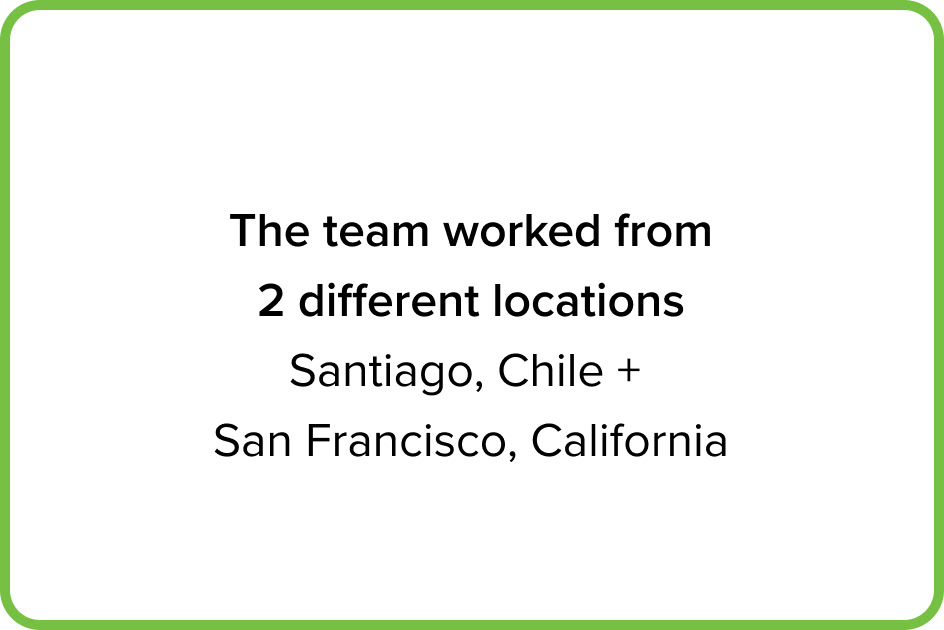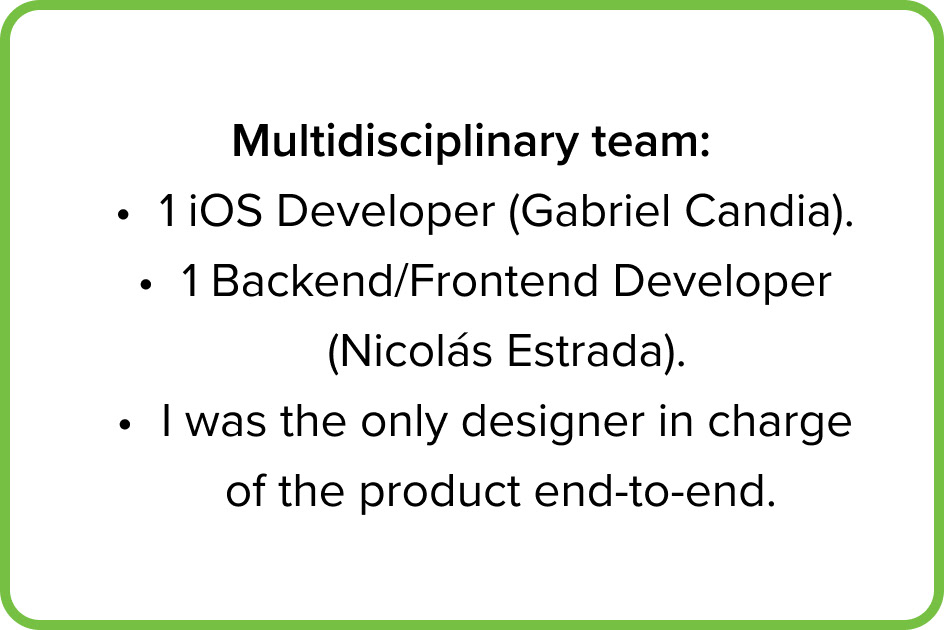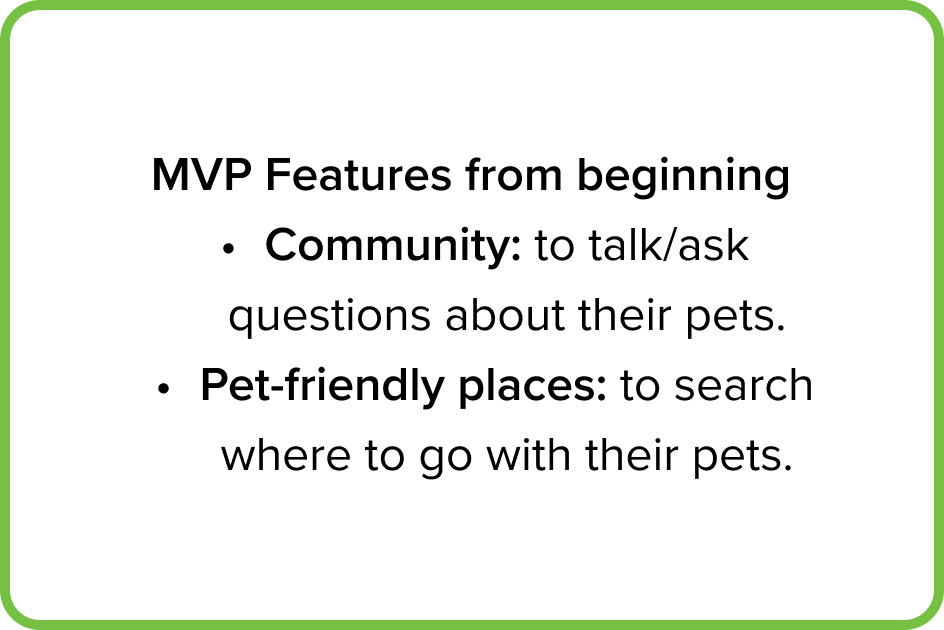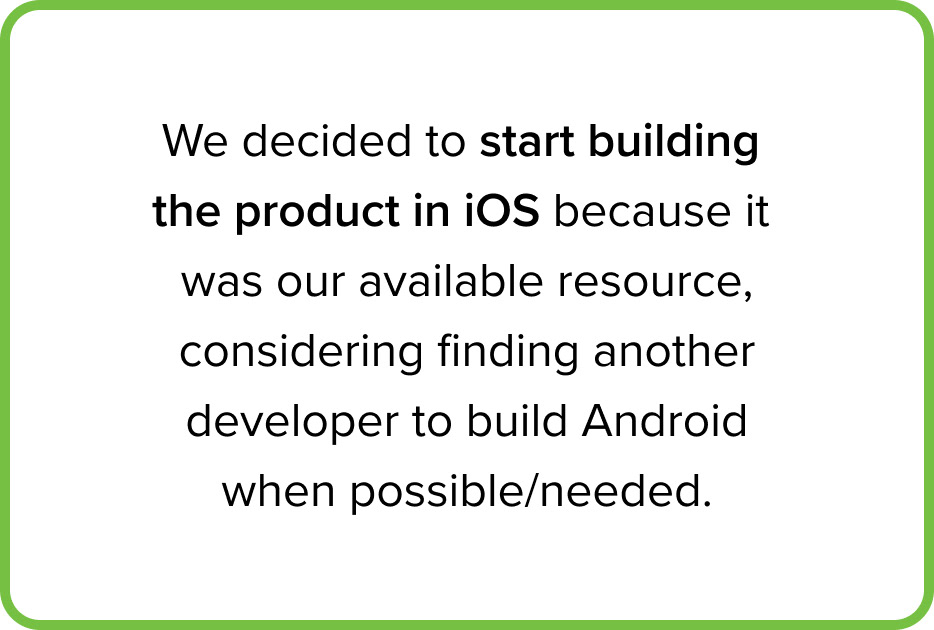 UNDERSTANDING PET OWNERS IN CHILE
To understand our users and identify specific behavior patterns, pain points, motivations, and understand the context, I did

desktop research, conducted 3 online surveys with a total of 93 participants, and interviewed 10 pet owners from Chile.

Then

I created personas

based on my investigation to guide my design decisions and share it with the team to keep them in mind in the whole process.
•
 Th

e new law 21.020 enacted in 2017 of Responsible ownership of pets and companion animals (Cholito law) has a set of obligations: register their pets and implant a microchip, take responsibility for their food and sanitary management, and respond civilly for the damages they cause, among other responsibilities.

(ChileAtiende)
•
 6 of 10 Chilean households have a pet:

52% are dogs, 25% cats, 36% don't have a pet, and 5% have another type of pet, living 1 or more types of animal per home.

70% take their pets to the veterinary,

and their average monthly expenses are CLP 25.871 (34.51 USD). 

(GFK 2018)
•
 

Chilean people 

get a new pet adopting or as a gift,

followed by purchasing an animal. When

buying online pet products,

the leading platforms are Facebook (64%), websites (60%), and Instagram (51%). They buy food (50%), toys (63%), clothes or accessories (58%), and training treats (7%). 

(Cadem 2019)
• 
In 2018, were registered more than 65.000 pets. In 2021, more than a 1.5million pets were registered

with a microchip, and more than 400.000 have been neutered in the country. Most of them are dogs and cats, being mixed dogs the most registered (608.439). 

(Subdere)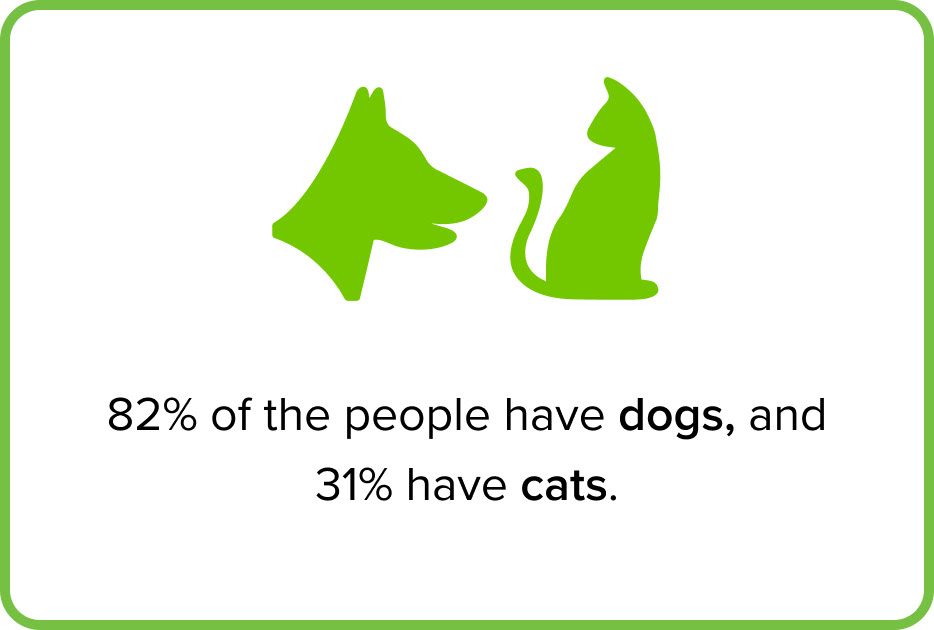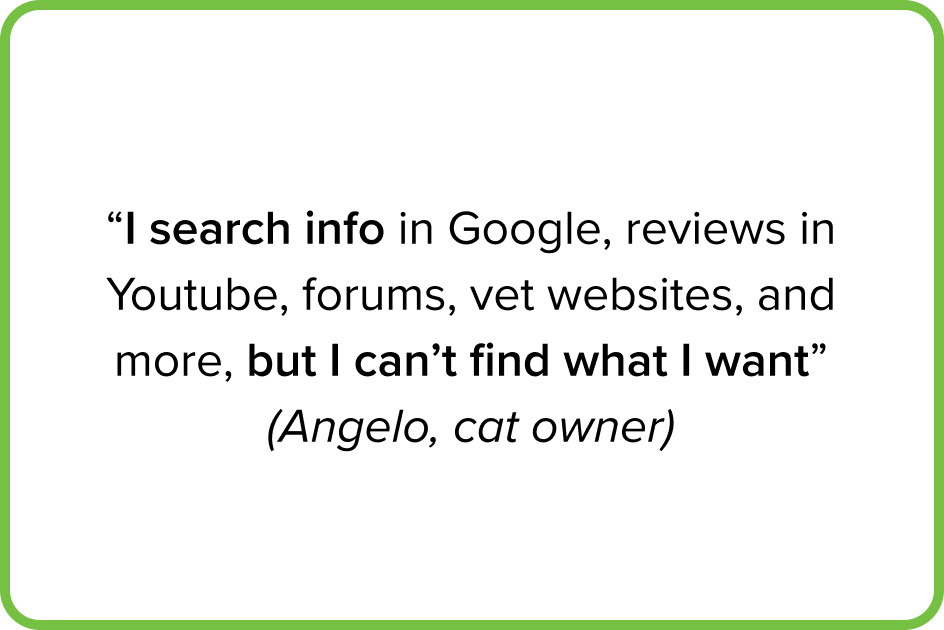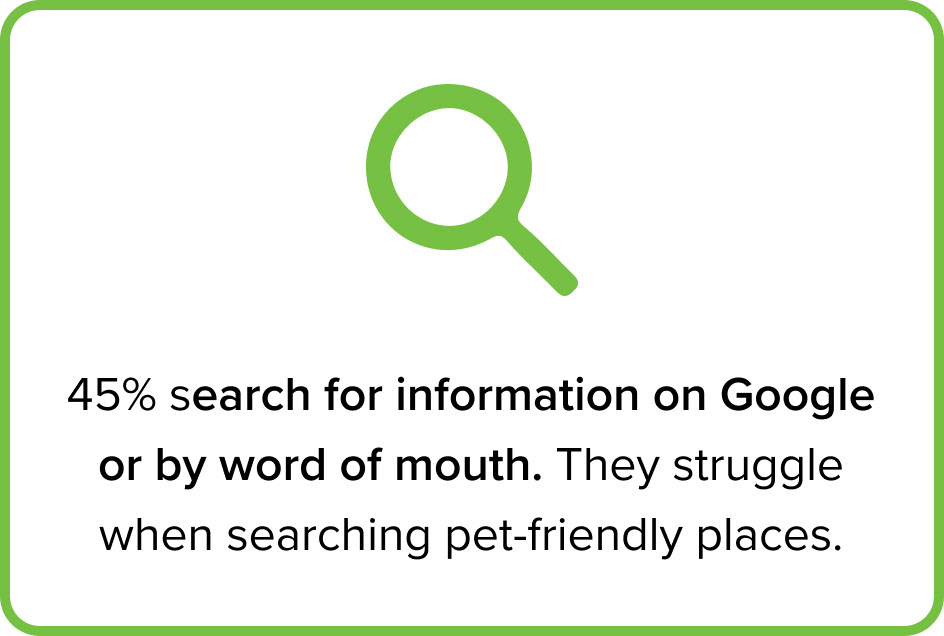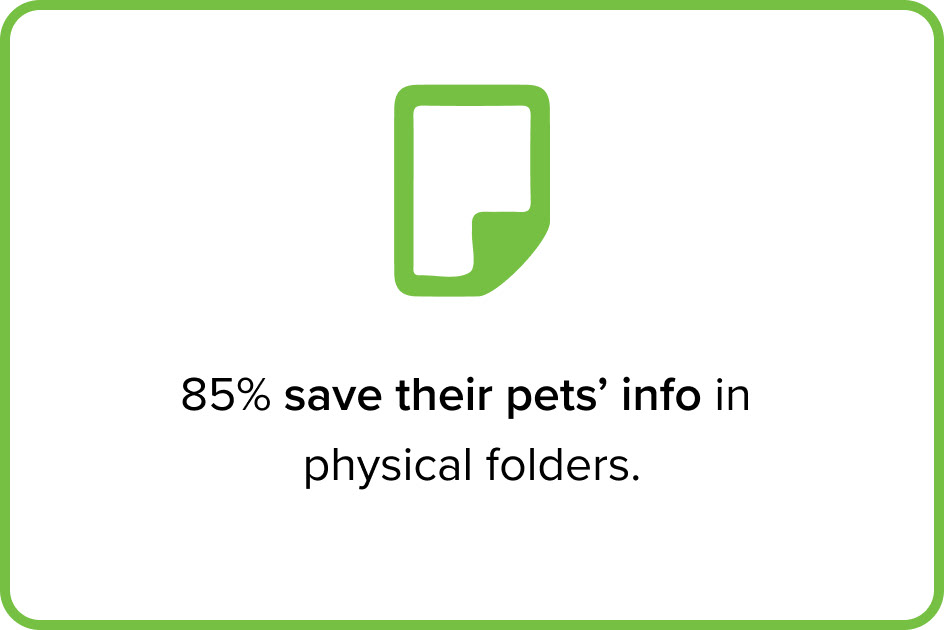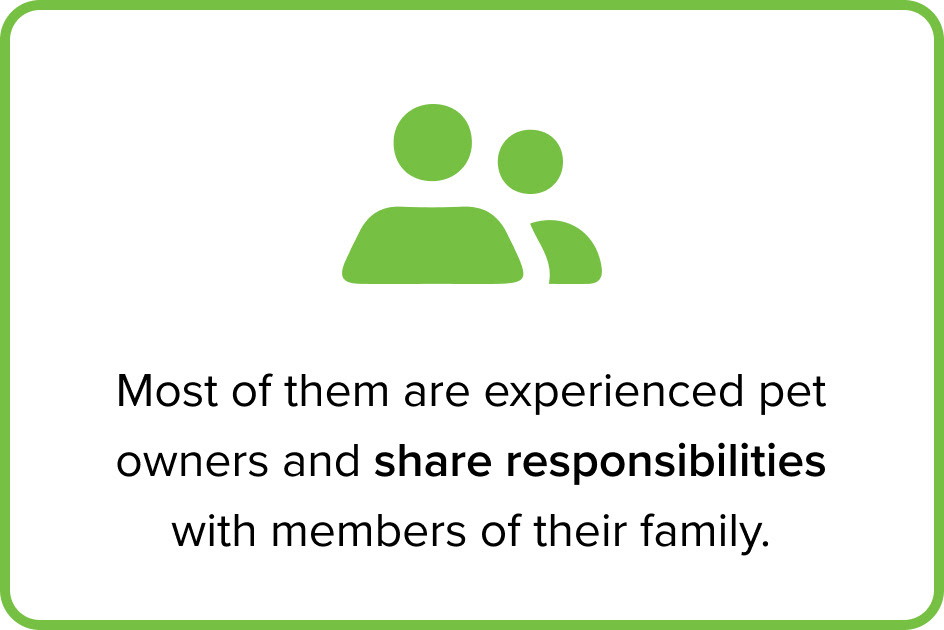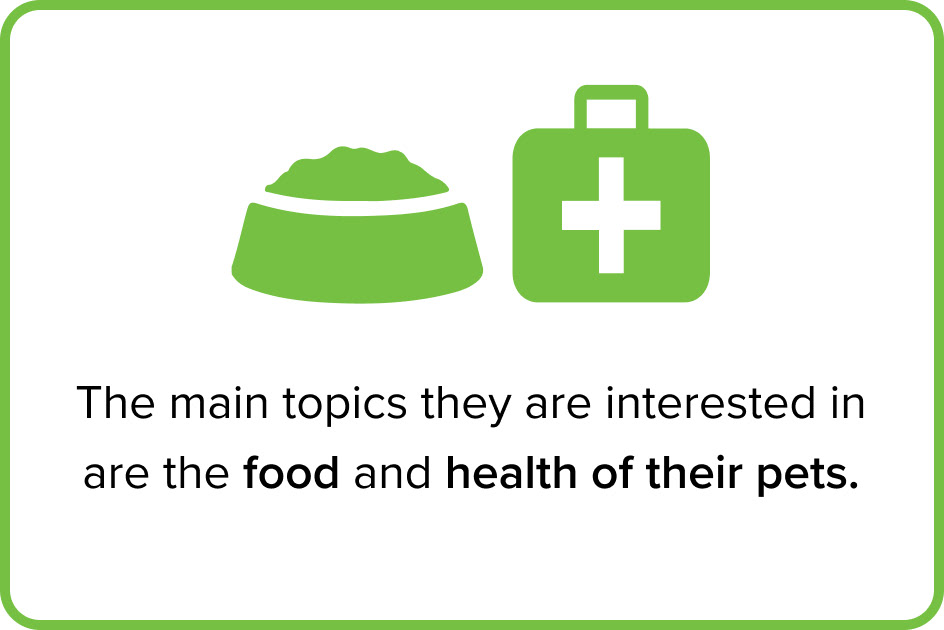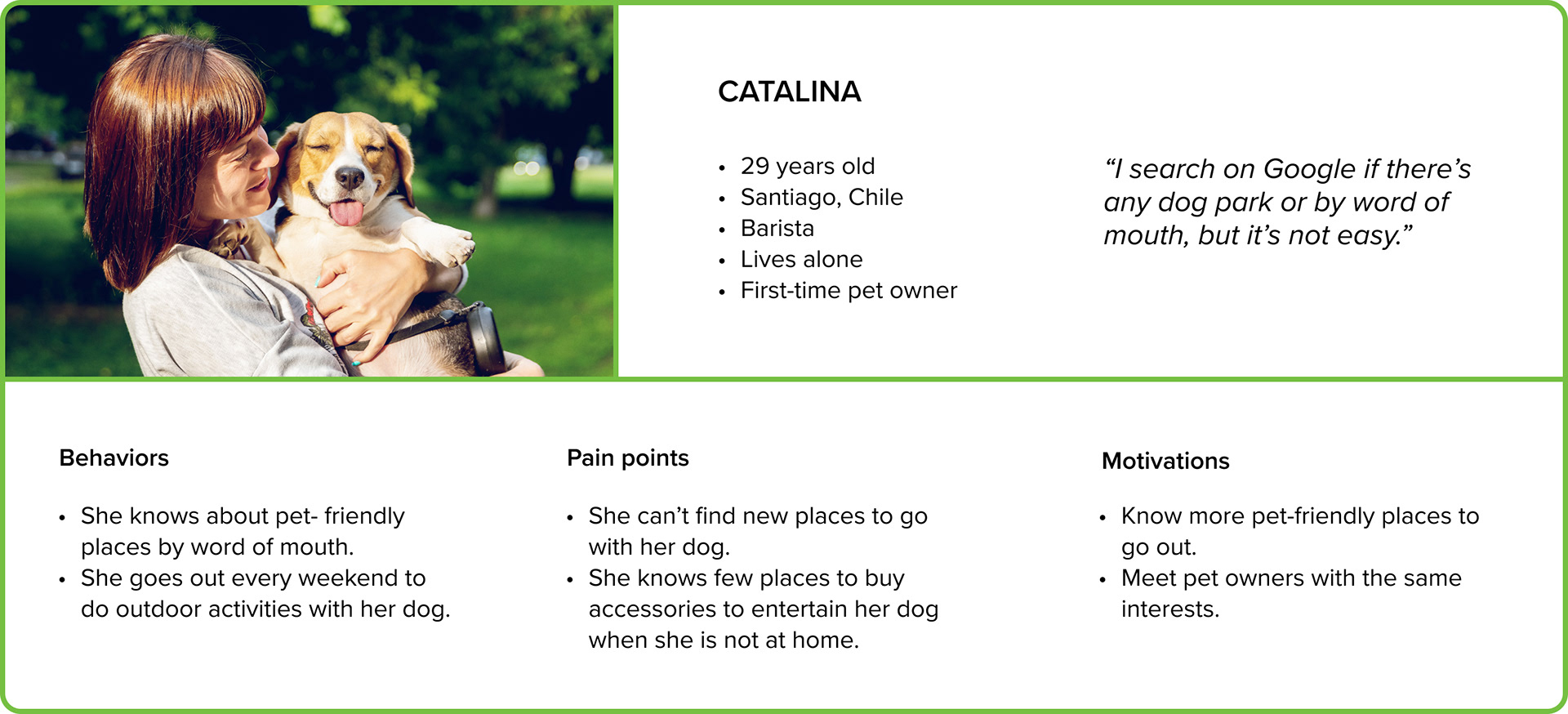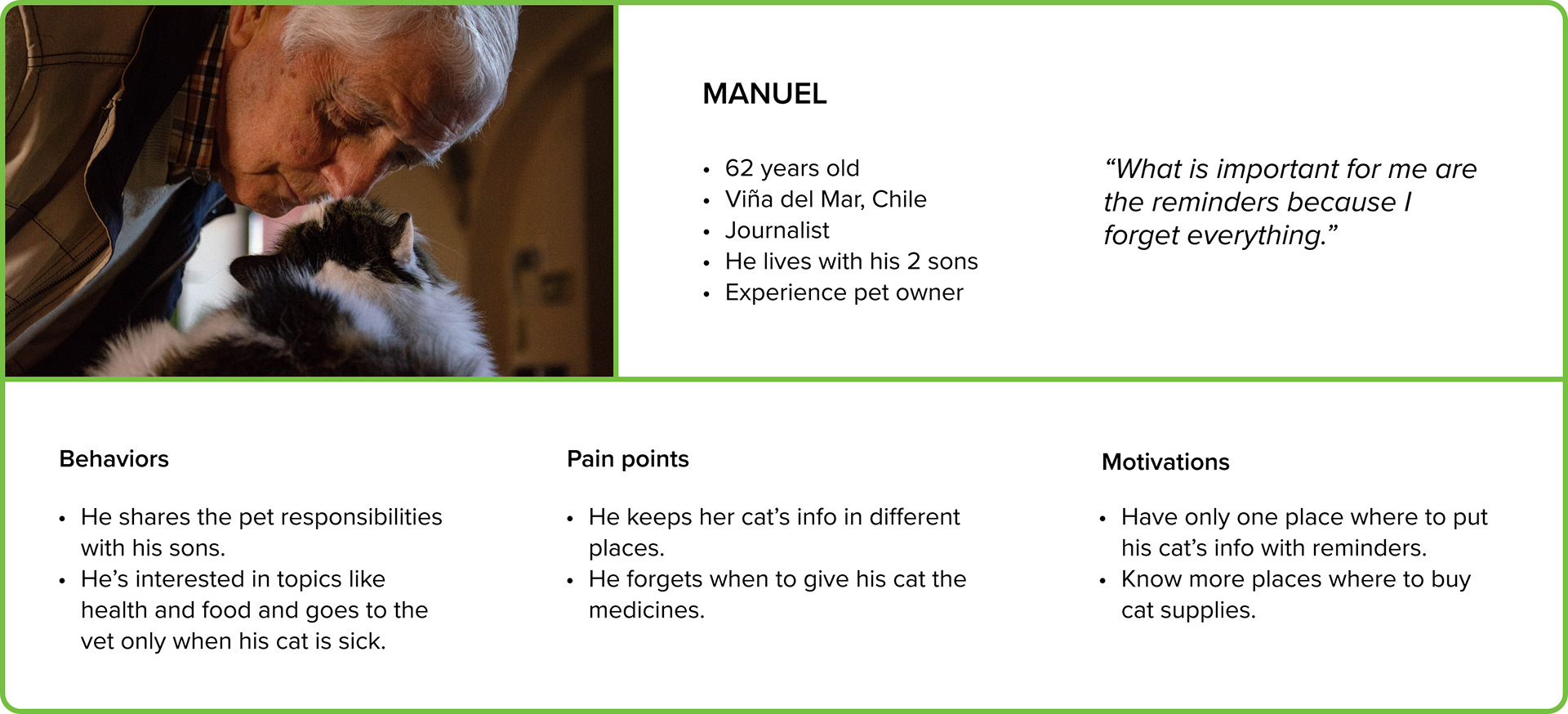 While benchmarking apps in Chile,

I could find very few, and most of them, related to lost and found pets or for adoption.

Laika was an app with similar characteristics to our project purpose, but it was launched and then removed from the Google Play and App store. 
We can find

numerous apps in other countries' markets,

 mainly for cats and dogs. Also, nowadays, we can find 

international and national Instagram and Facebook accounts

that recommend pet-friendly places or sell pet accessories.
IDEATION, EXPLORATION & DESIGN
* We decided to build the app for dogs and cats owners because they are the leading animals in Chilean households. 
When sketching, creating the flow, and iterating the designs, 

I wanted the users to have an easy and intuitive way when navigating.

Also, as a team, we decided the purpose of each feature to have a better flow and north star when building the app,

working simultaneously, and collaborating between teams. 

For the scope of this case study, I will focus on the MVP features "Community" and "Pet-friendly places."
Users can post anything related to their pets under 2 main categories: Dogs/cats and 4 subcategories: food, entertainment, health, and grooming. They can filter the categories for a quick search, and
users can post a comment, upload photos, give likes, and save posts they are interested in.
This feature helps pet owners solve their questions, have space to interact with other pet owners with their same interests, and build community.
* At the beginning, this feature was called "Questions," but it seemed confusing when talking with other people and was changed to "Community." (I translated the names, the app is in Spanish).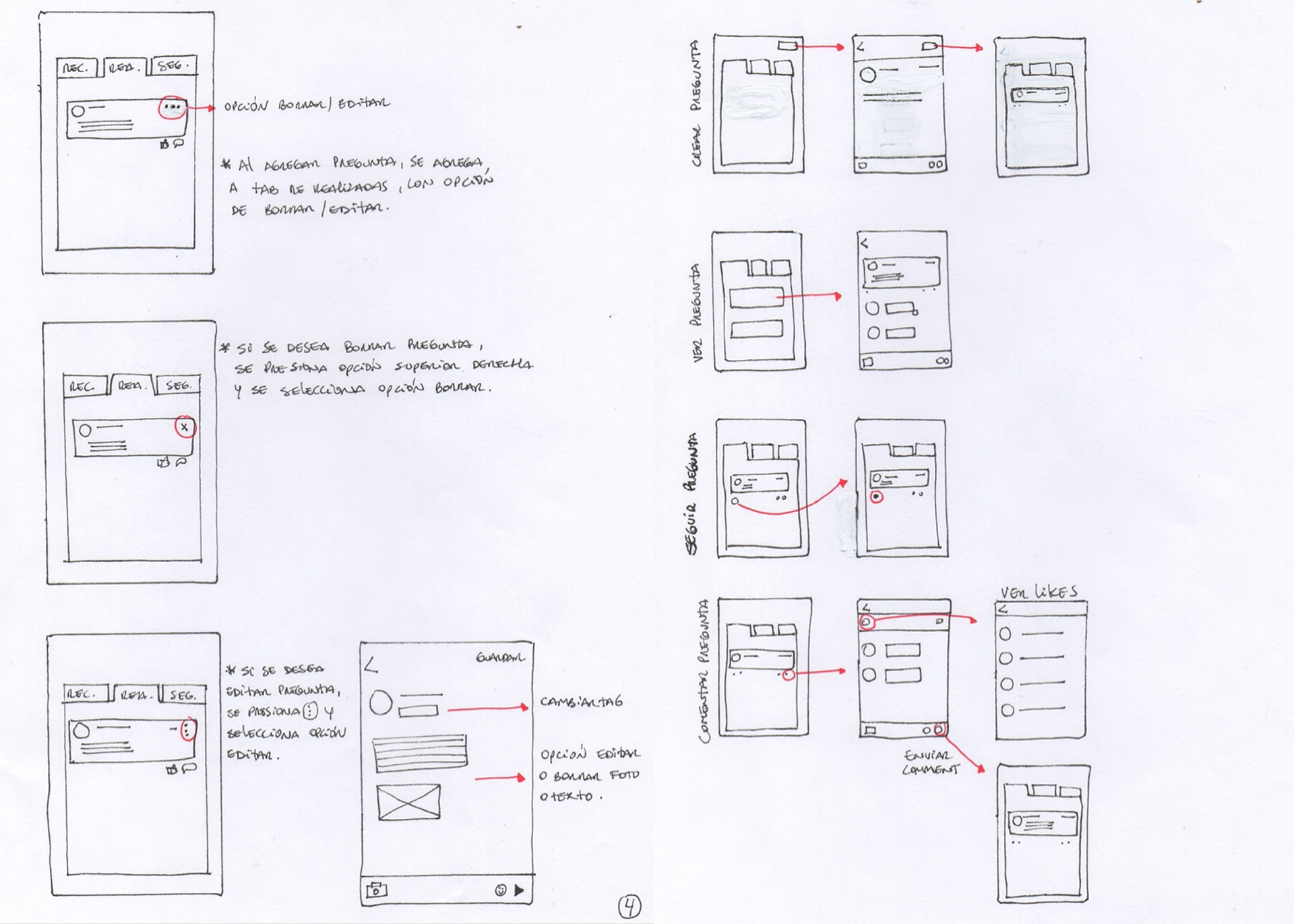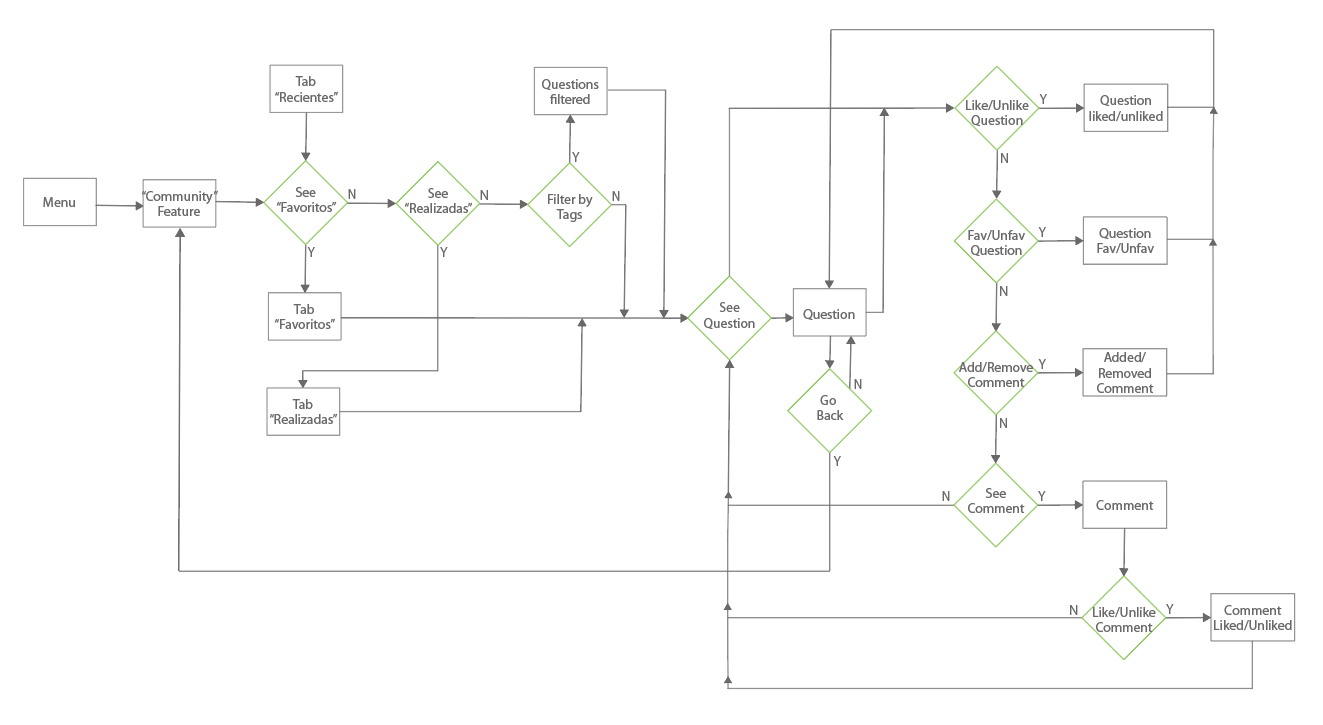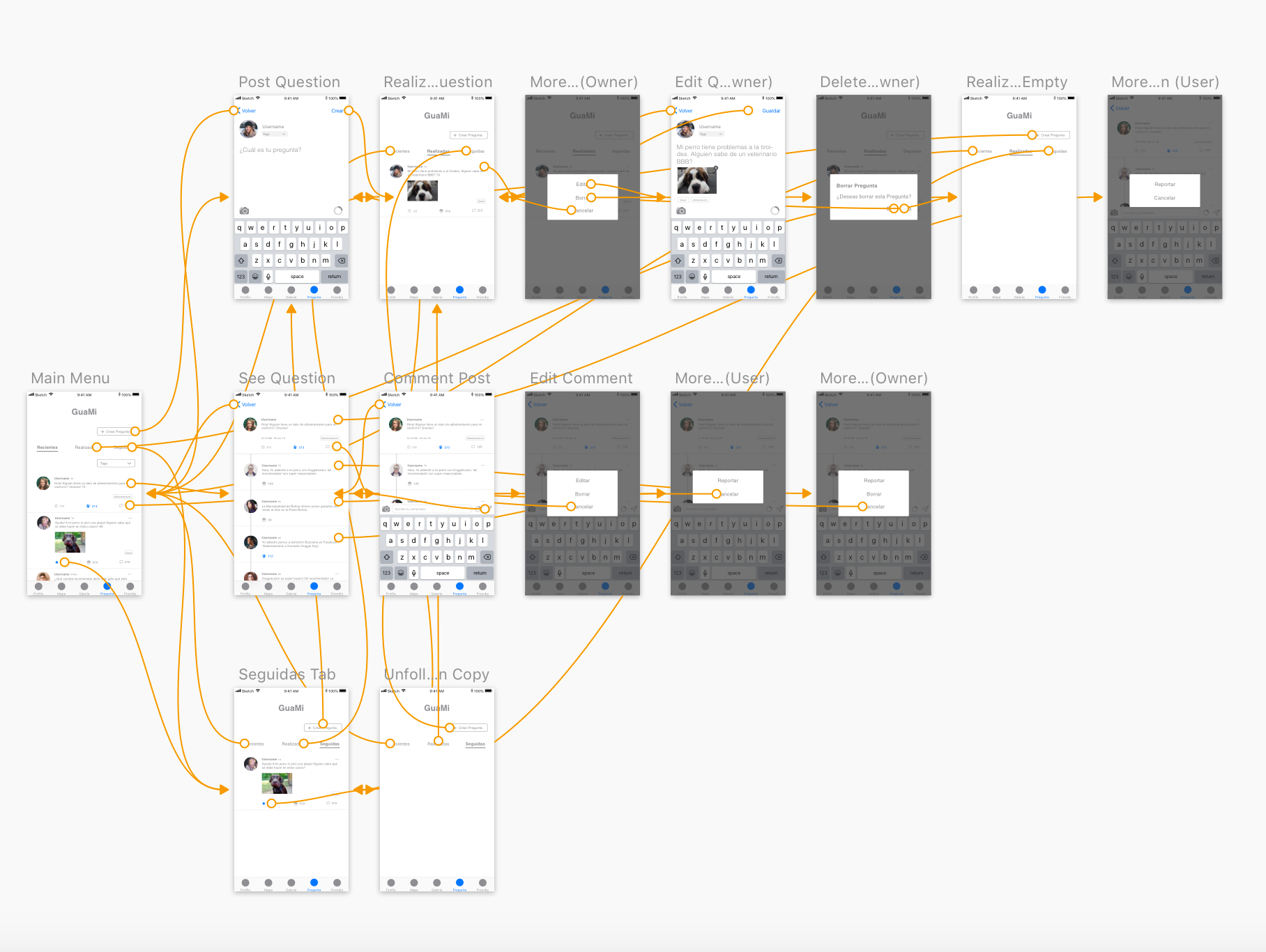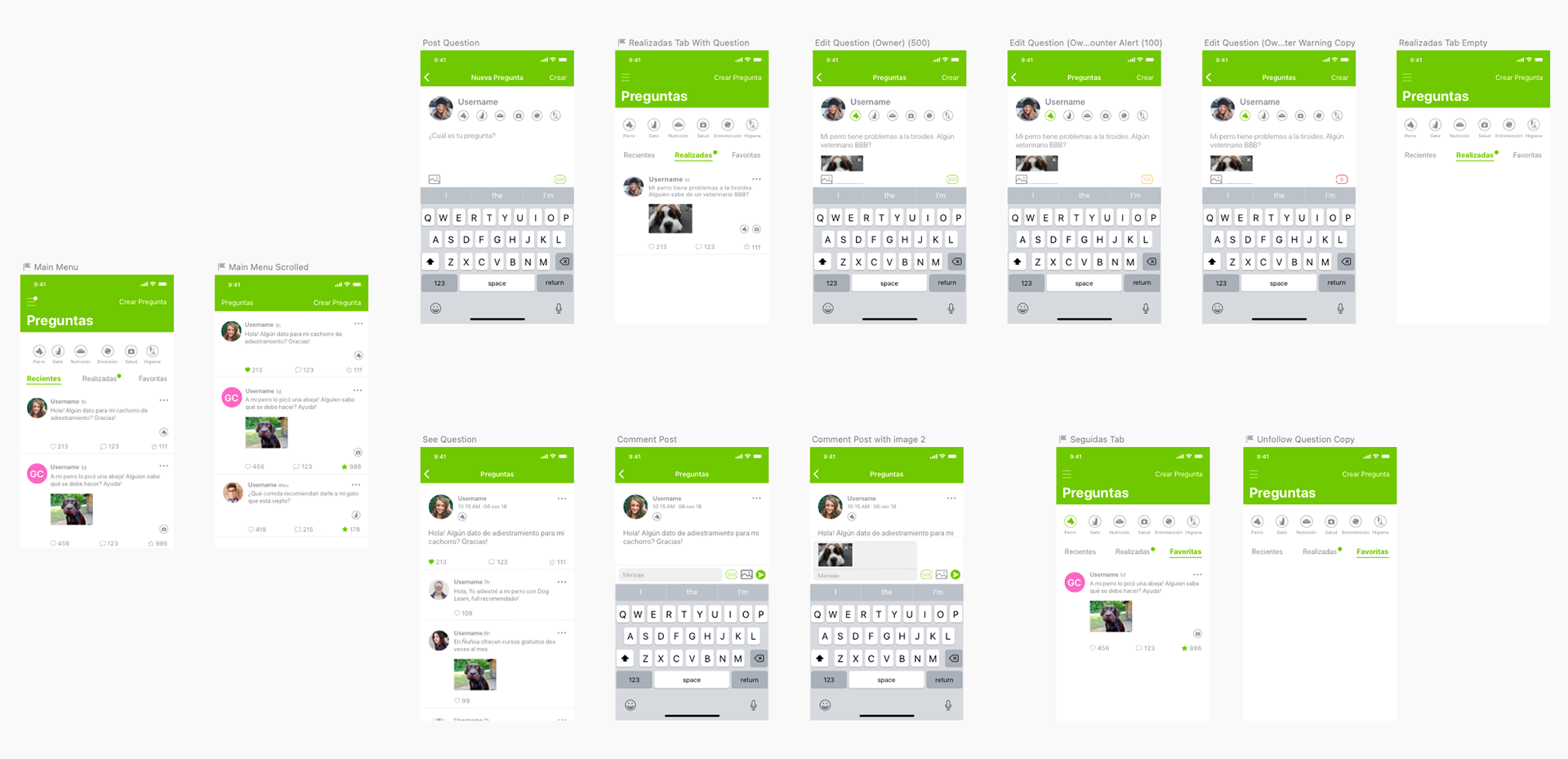 FEATURE "PET-FRIENDLY PLACES"
Users can

search pet-friendly places through georeferenced results,

with two views: through a map or a list.

Each place has essential info

as name, address, website, or any other information the place can provide,

and reviews from the community.

Pet owners can write their reviews and save their favorites places

to find them later quickly. This feature helps them find activities and places to go with their pets, increase their relationship, and meet people with the same interests.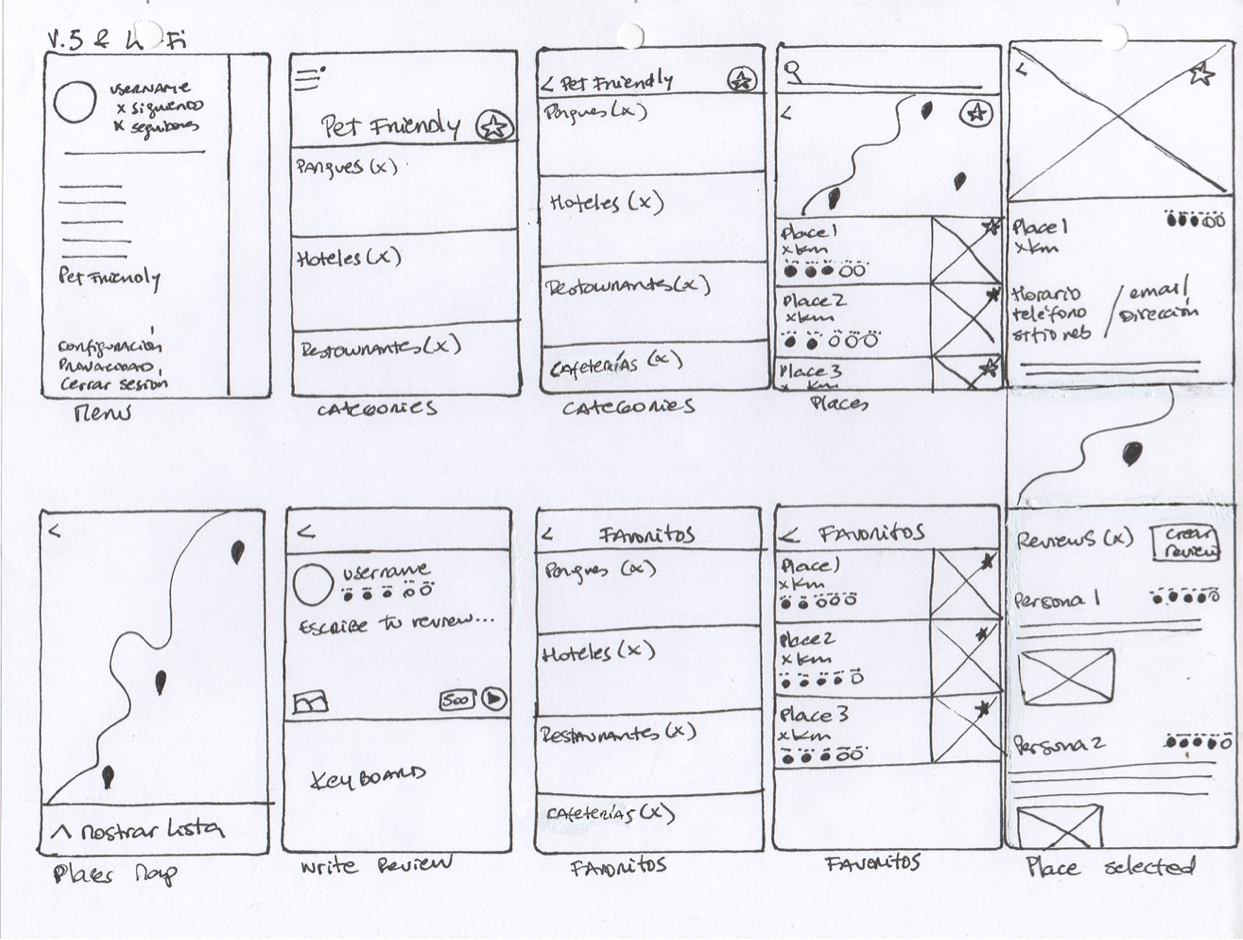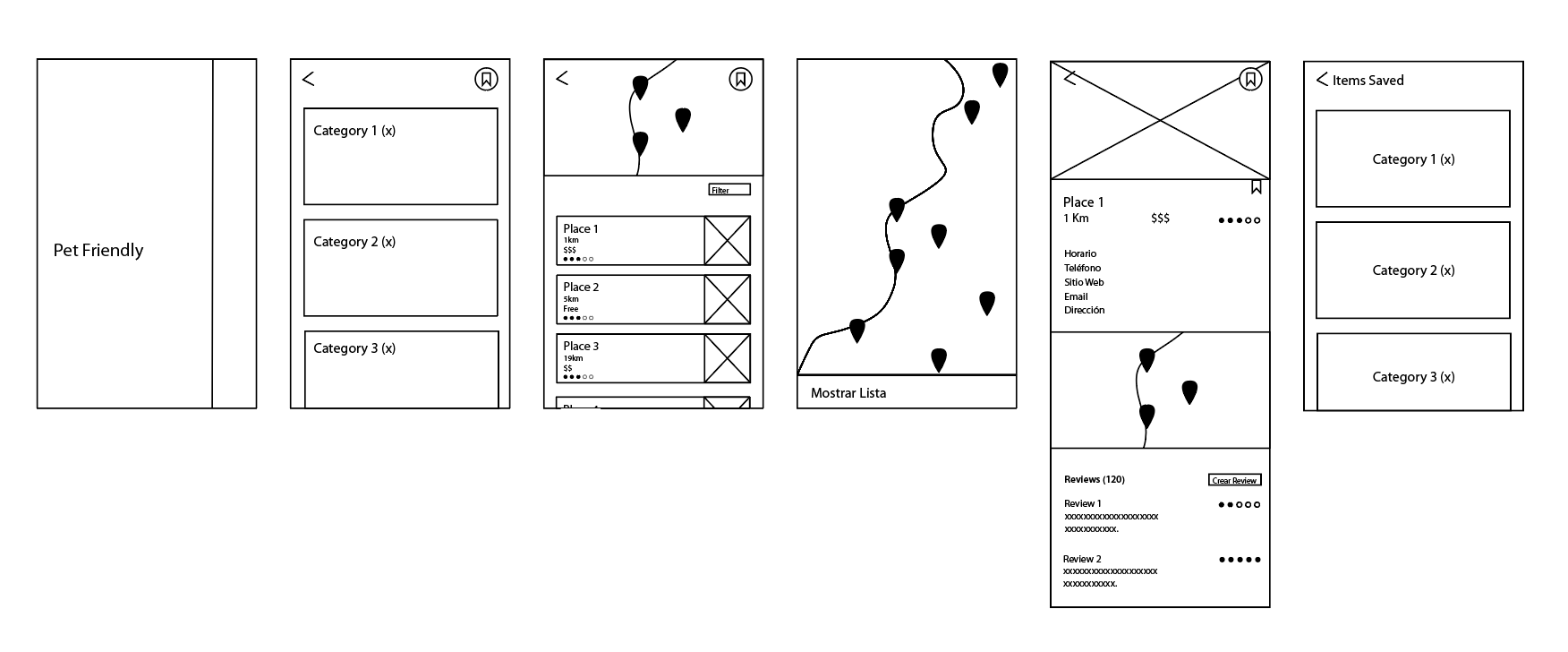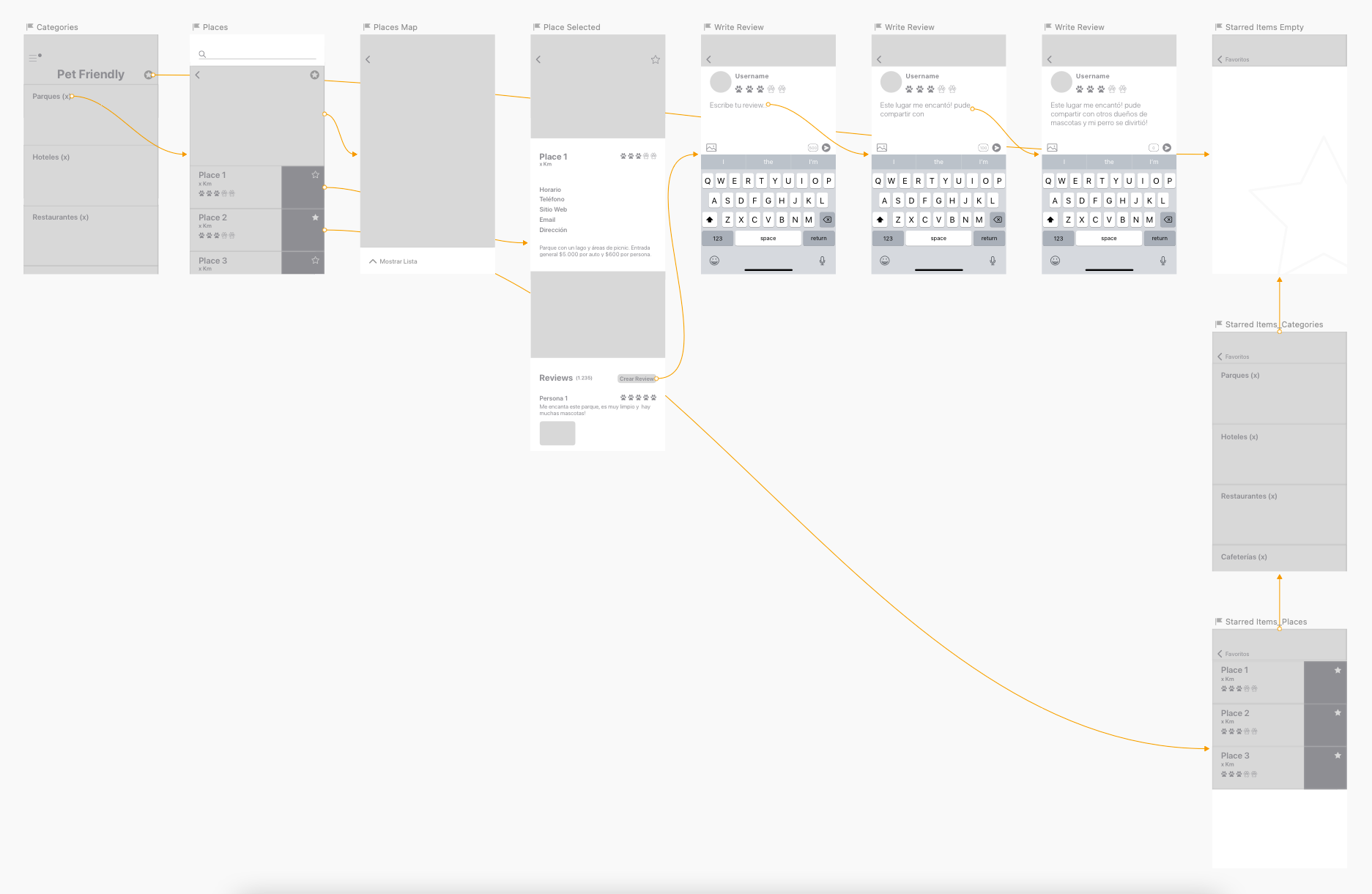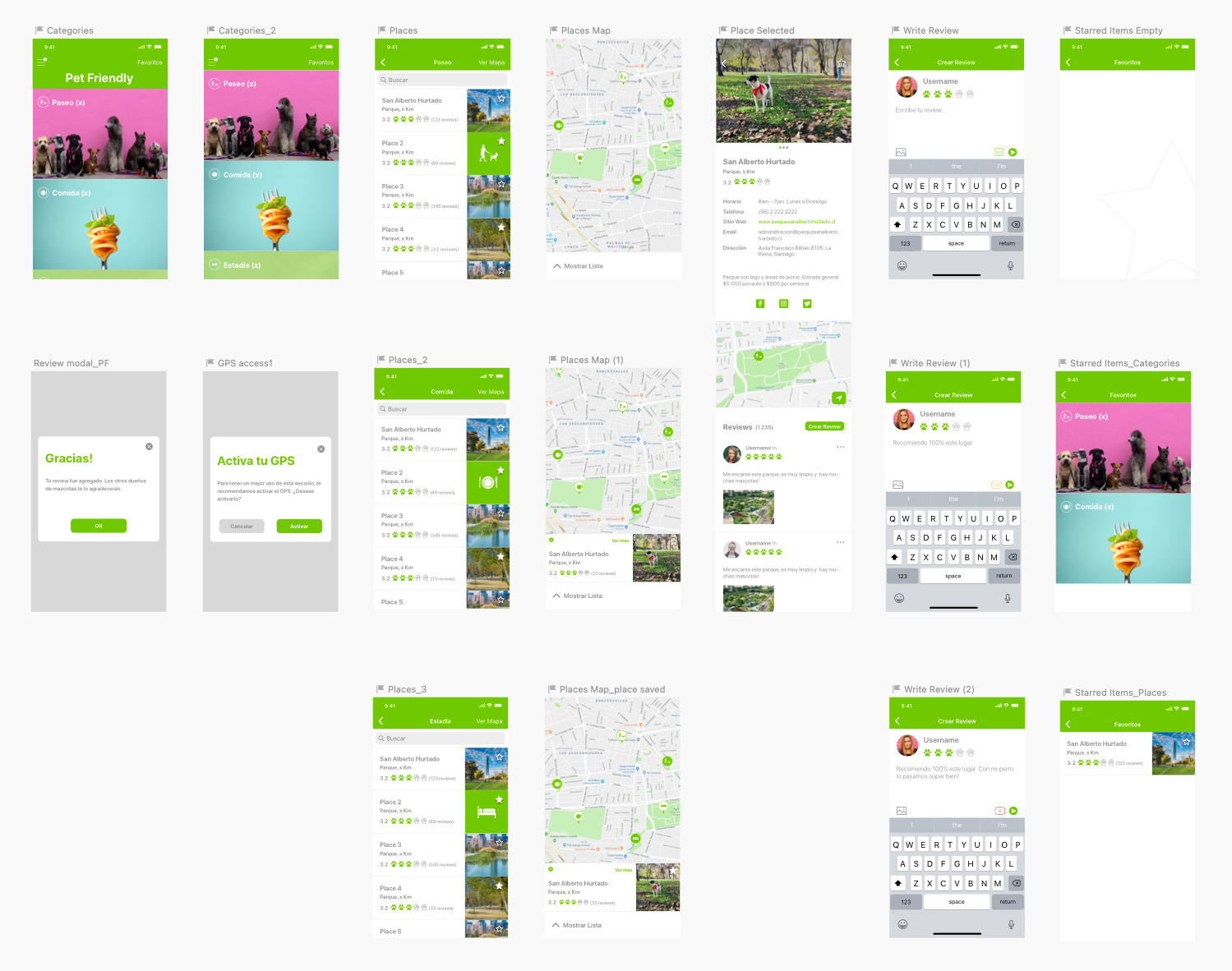 To test if users would understand and use 2 features of the app, I did in different stages

4 usability tests with 3 different users from Chile in each one under a moderated video call via Skype.

Surprisingly, users could go through

all the tasks successfully with "Pet-friendly places,"

reacting very satisfied with the experience and excited with the idea. 

With "Community," one screen became the most complicated

when selecting the categories, recognizing icons, and the meaning of concepts. After each test, I iterated the screens having, as a result, less friction after each usability.
​​​​​​​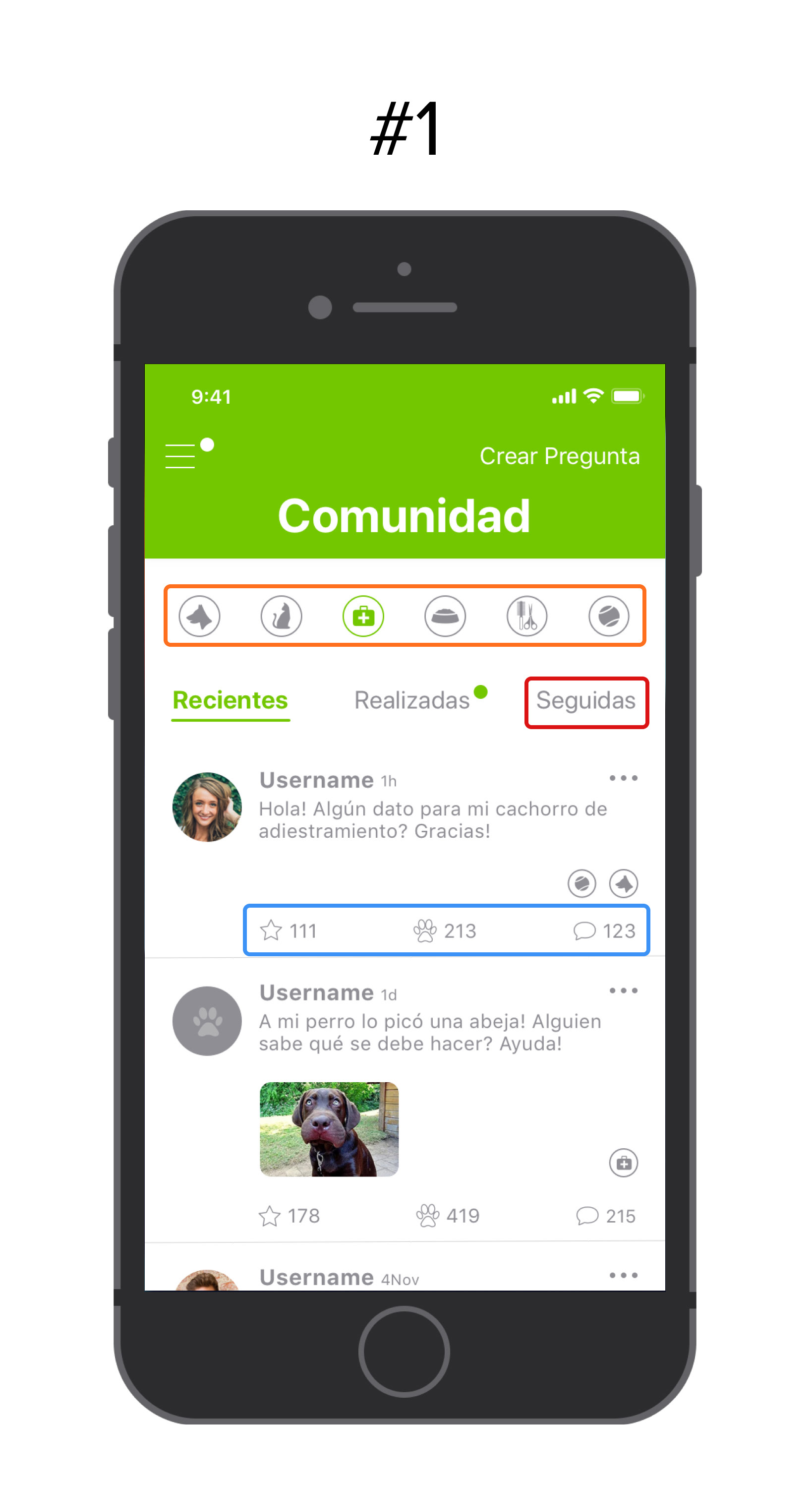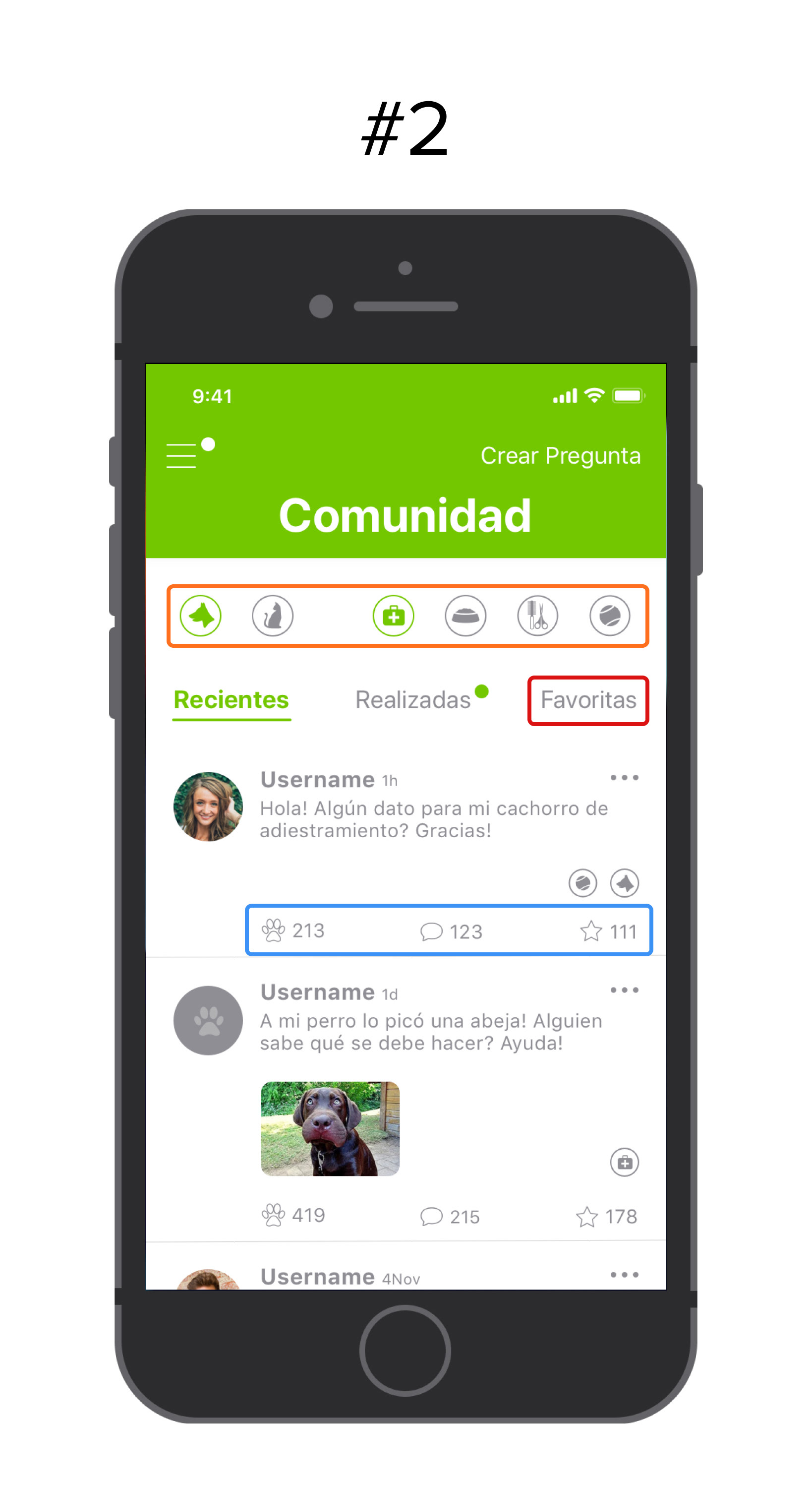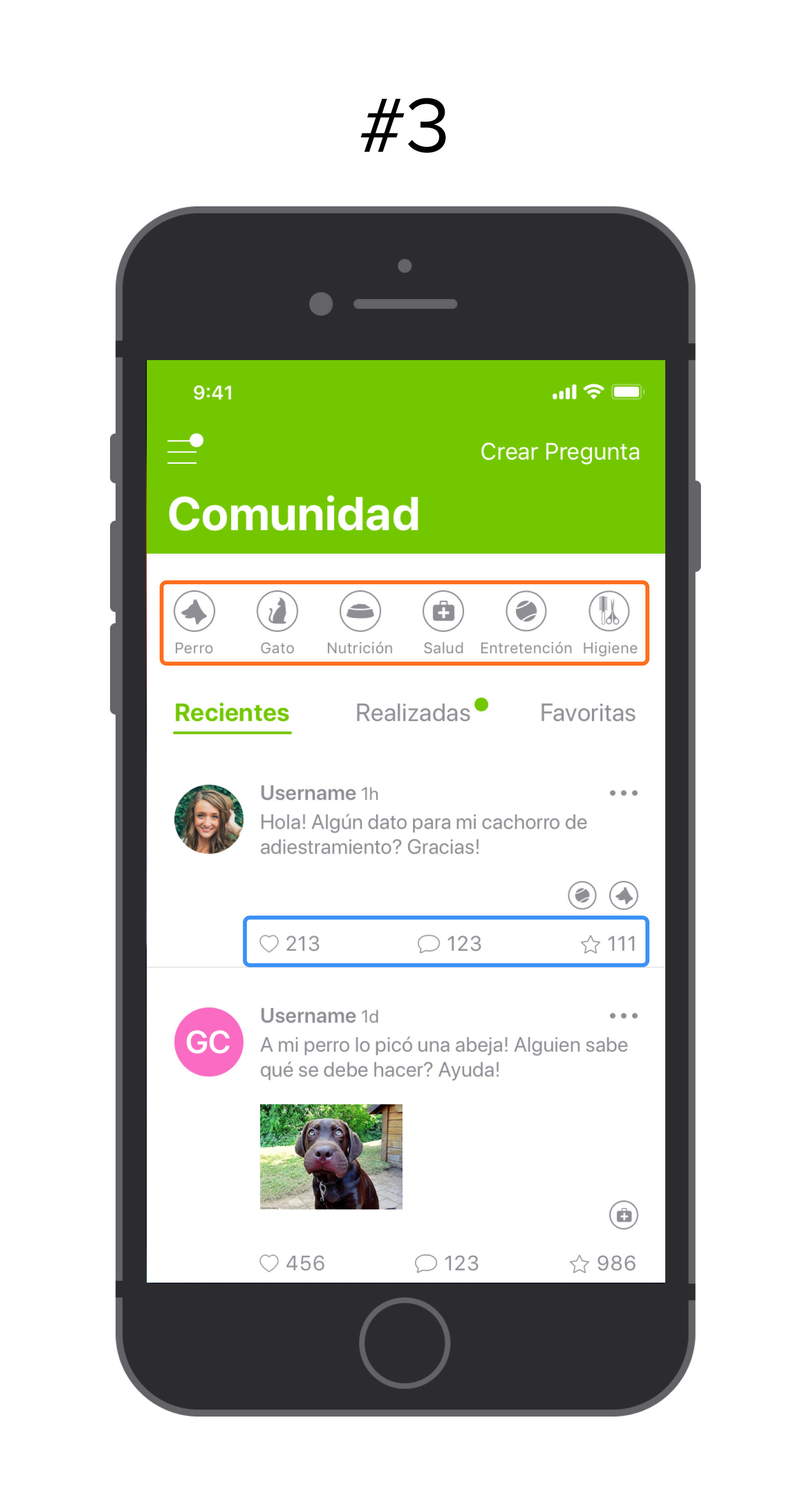 •
 

O

range selection:

 

(

#1) Participants struggled trying to select the categories in the timeline.
They were clicking on them, trying to get information. They weren't sure if they had to click one category or more.
(#2) I separated the icons
and tested if users could understand the order to choose the categories, and
users were asking for labels. (#3) I added labels to the icons,
 but
the order or how many categories they could choose wasn't clear yet. (#4) I tested deactivating the subcategories
to help the users choose between dog and cat first, and then the other options. Users understood and could do the task successfully, but I'm still looking for better and easier approaches.
•
Red
 selection:
(#1) Participants were confused with some words
. They didn't relate the tab "followed" with favorites.
(#2) Users understood better
when the tab was changed to "favorited."
•
Blue
 selection:
 (
#1) Participants took time to like a question.
They were confused between the star and the paw.
(#2) I changed the icon's order
to test if it the order or the icon was the problem. They still had issues to like a question.
(#3) I wanted to innovate with the paw icon, but I decided to follow their mental models and change it to the heart icon.
After that, users didn't have any problem when liking a question.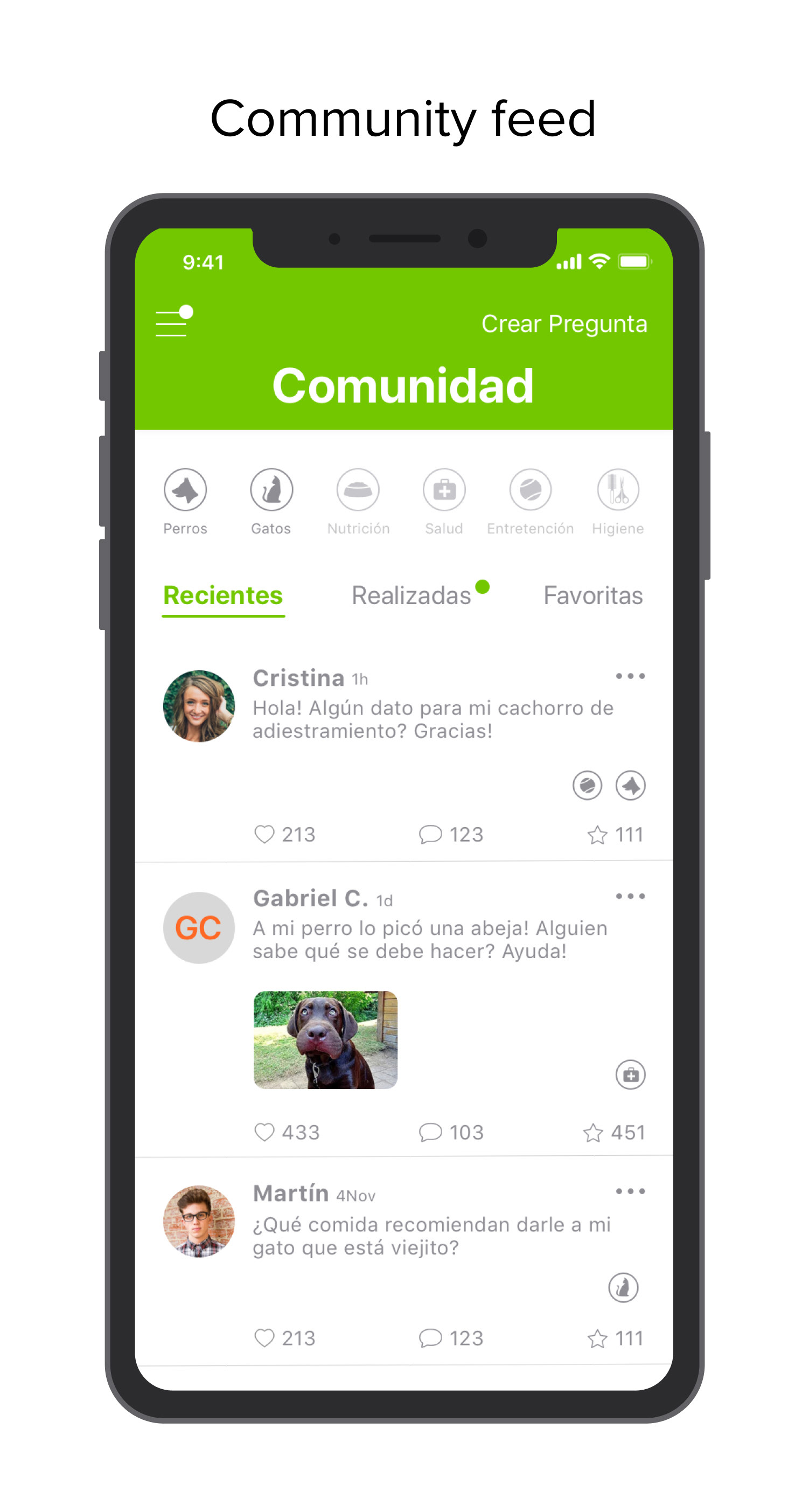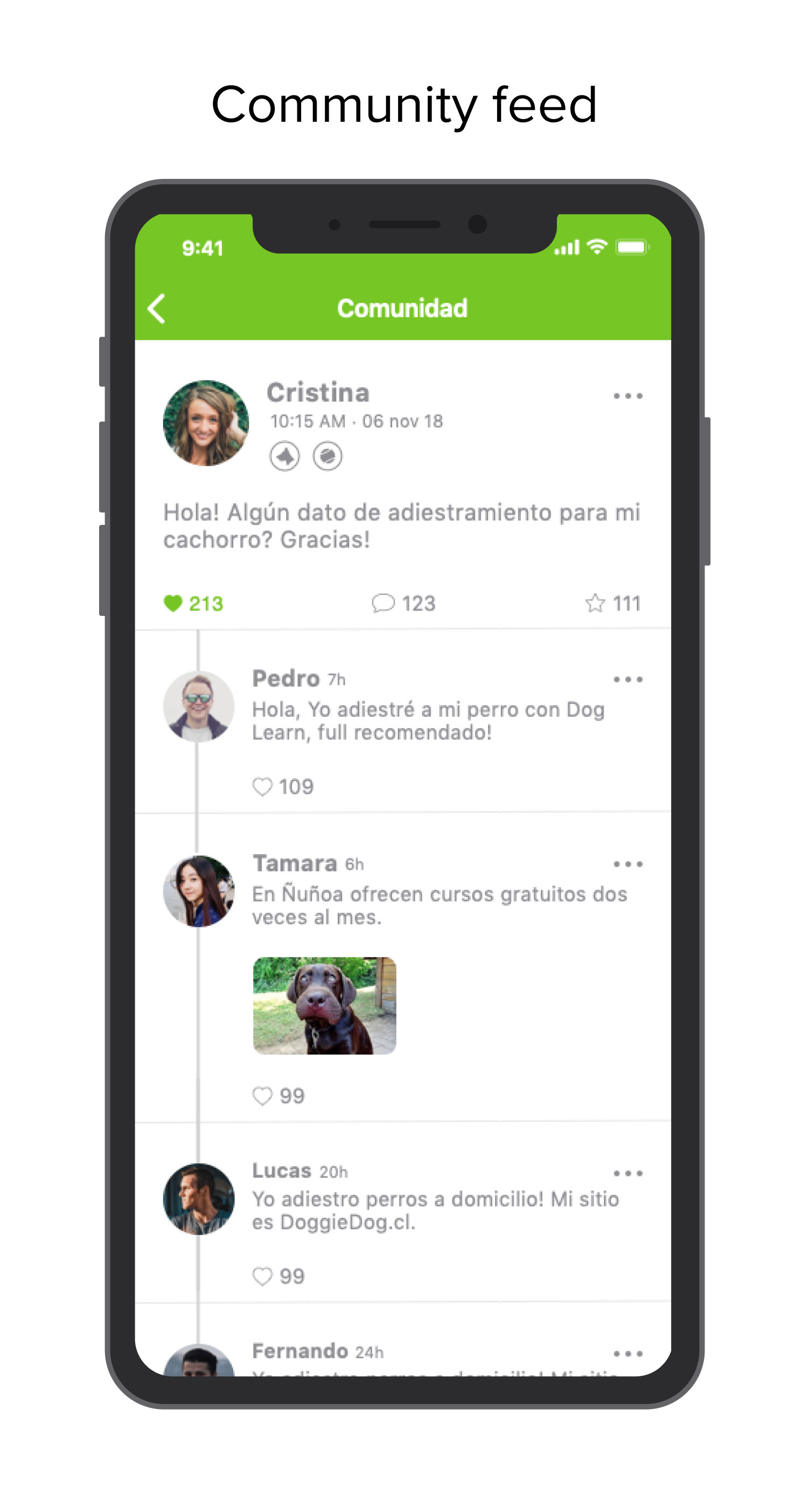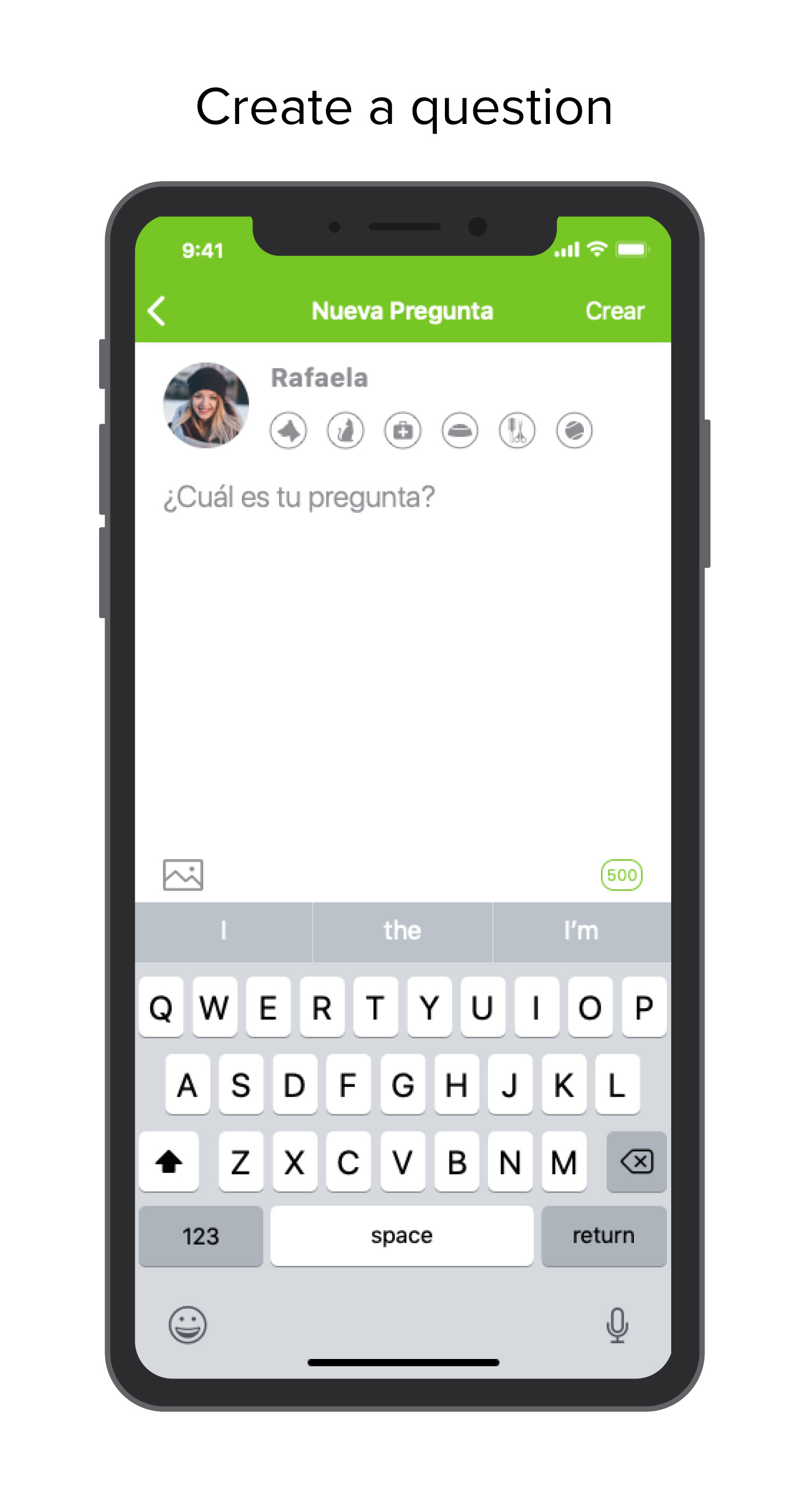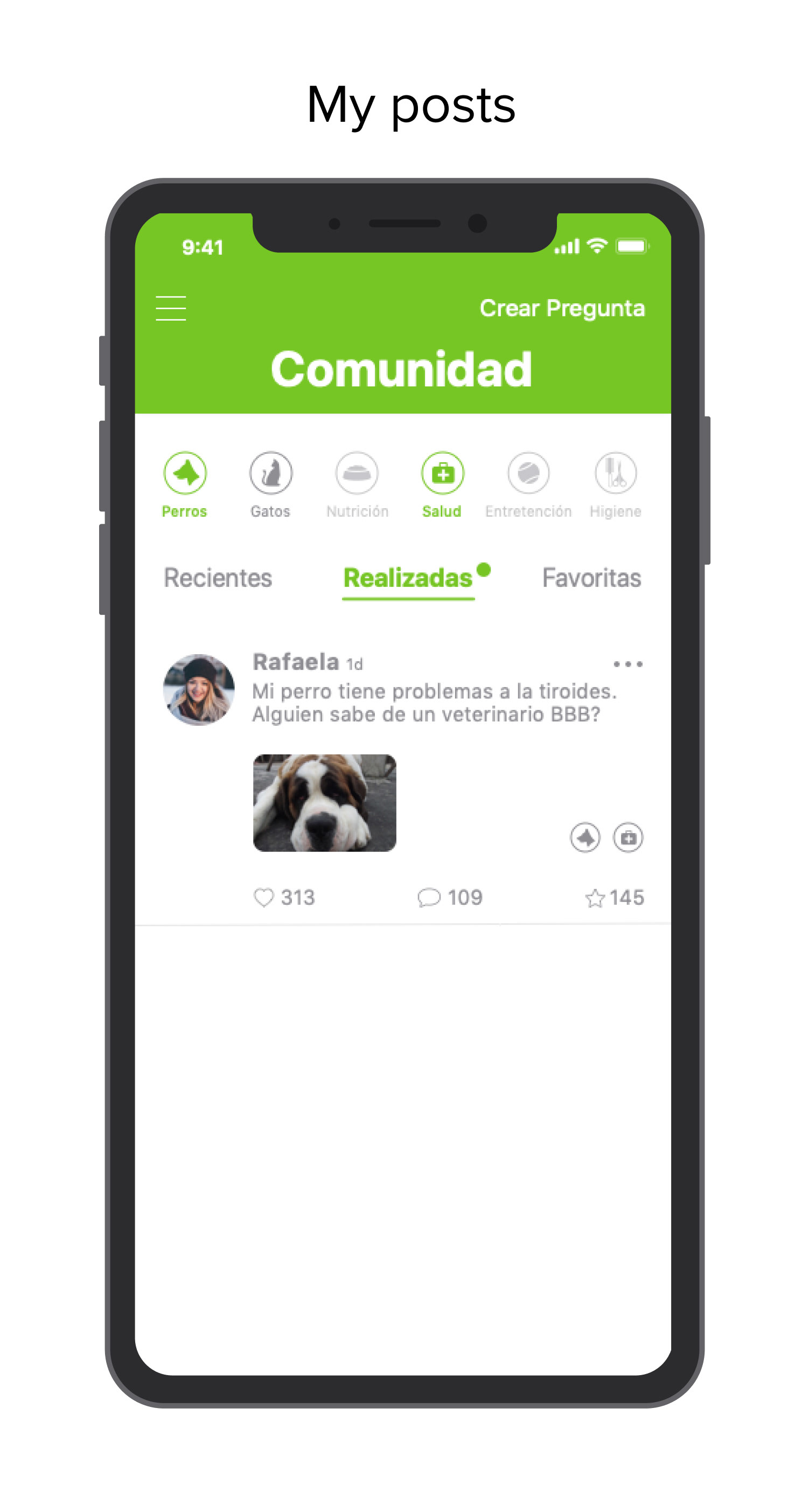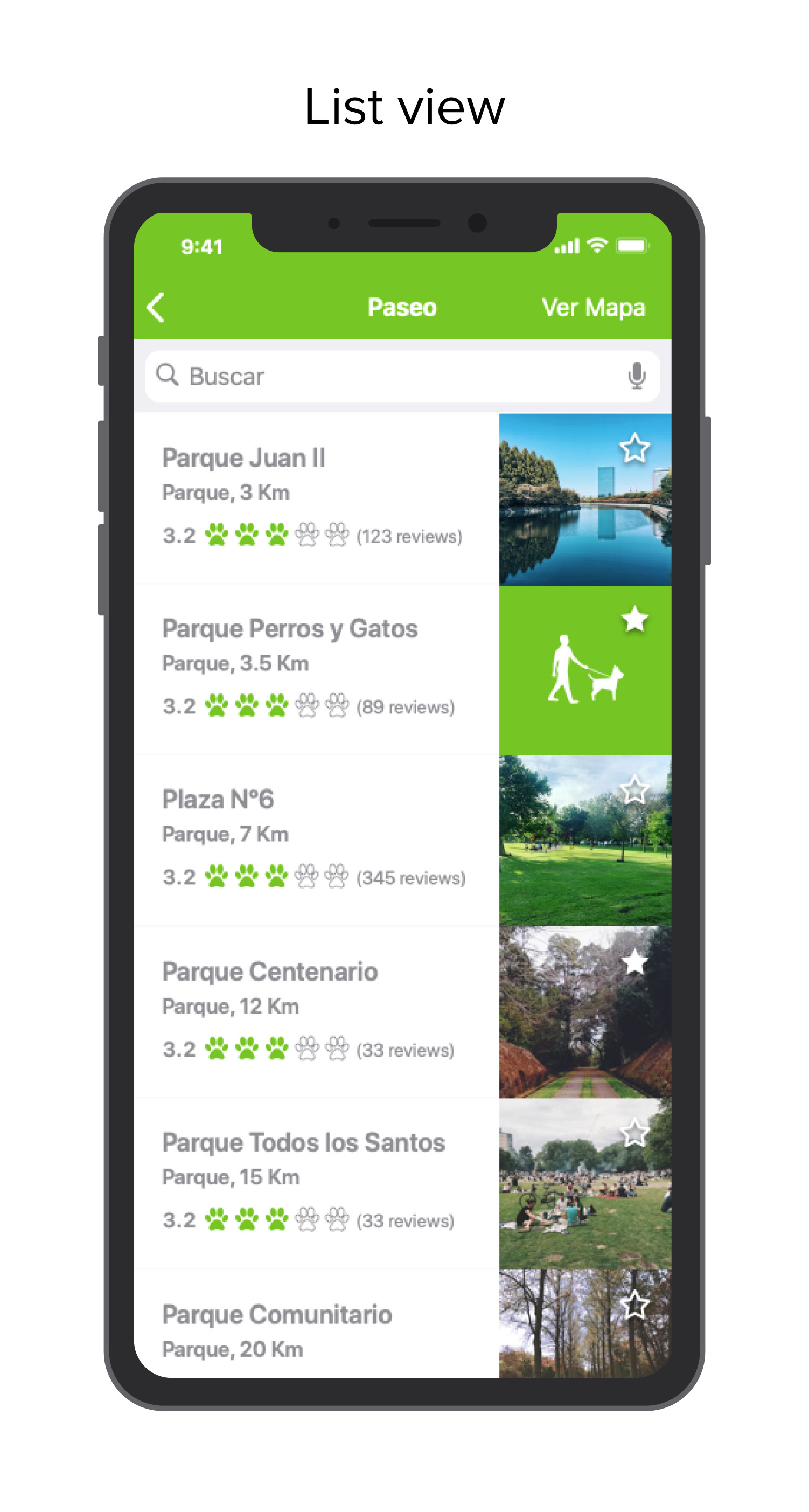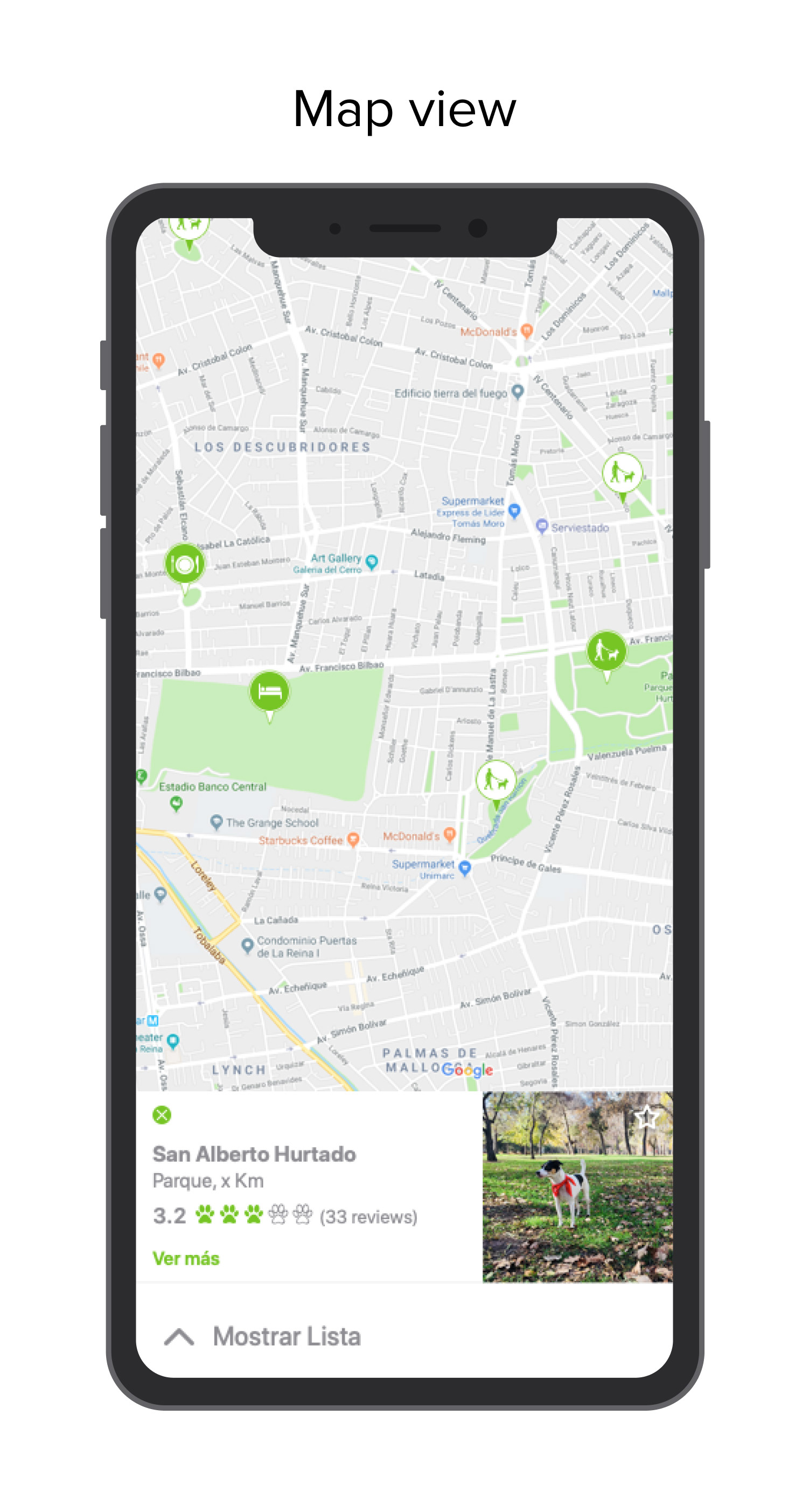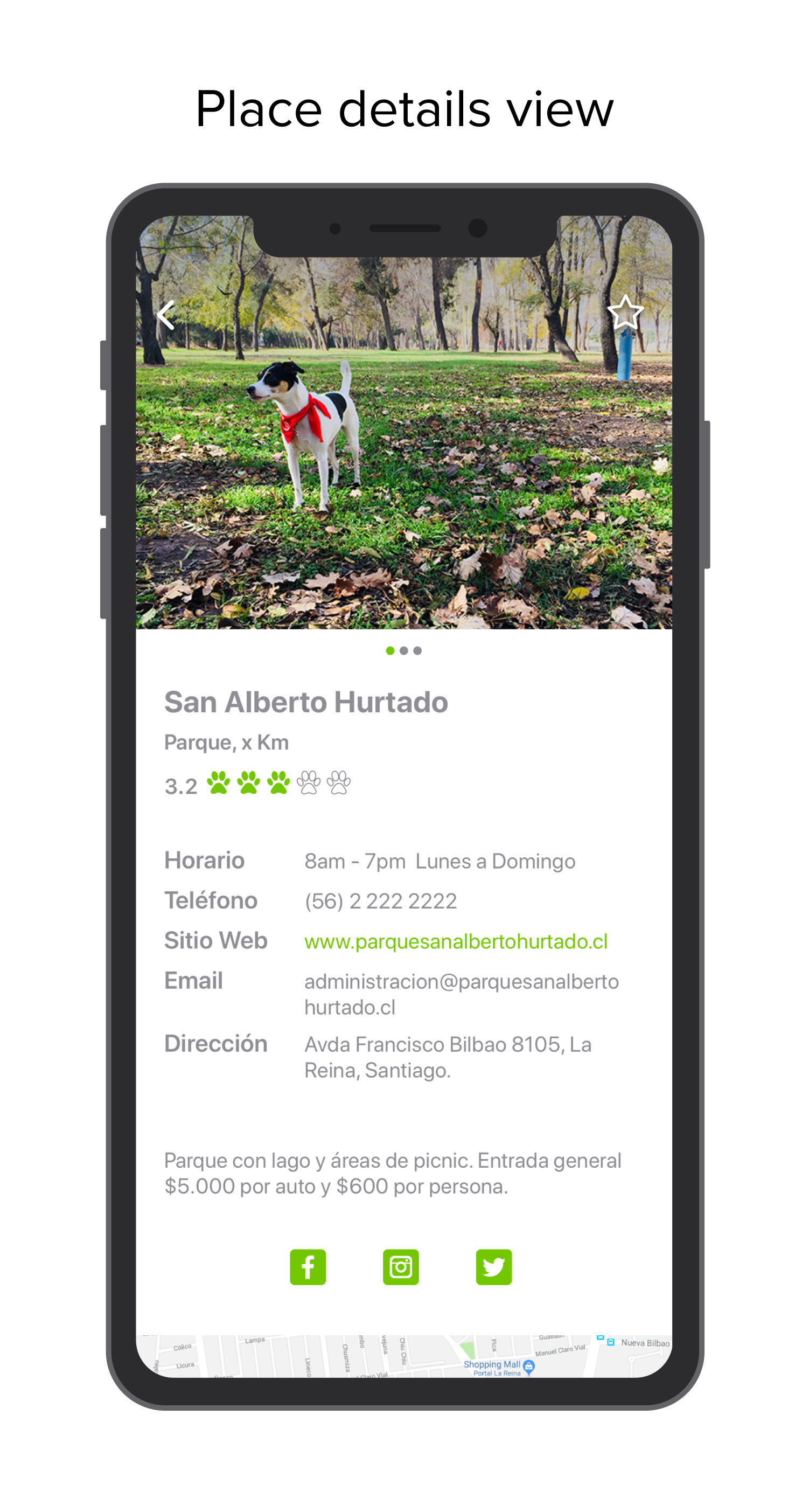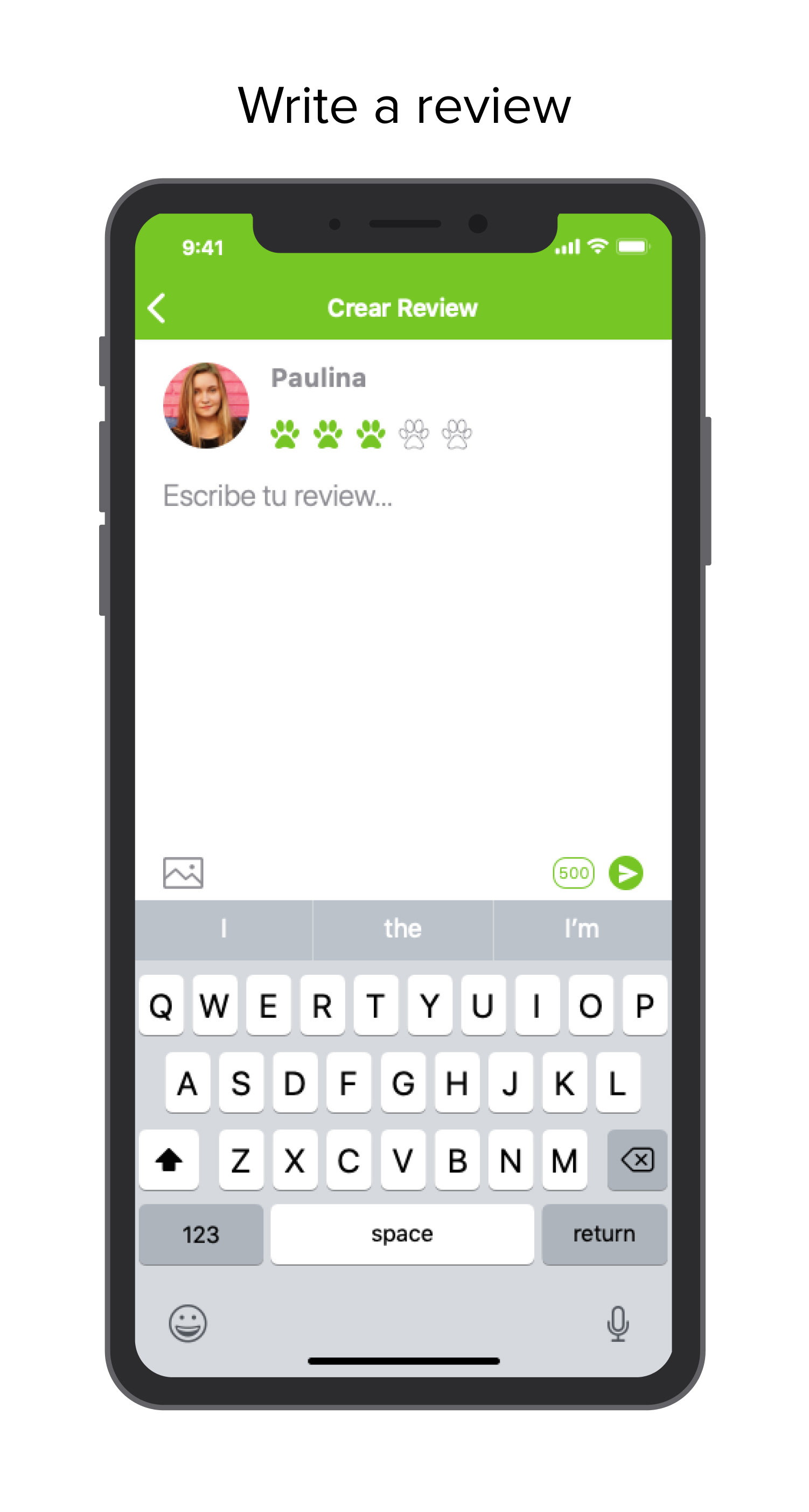 • We added 2 more features

given the user's needs in our research, incrementing the MVP and time to build it instead of an early release.
• One of the features I added, "My pets," to register, save and keep their pet's info in one place was implemented. Still, we decided that

some functionalities,

as reminders and medical records,

will be developed in the future because of technical and time constraints,

leaving only pet registration for now. 


• Because of the pandemic in 2020, we put the project on stand by.
• Users were very interested and happy when testing the app,

willing to use it, and recommend it to other pet owners.


Person 1:

"It would be great to have a place where you can simplify pet owners' lives. Pets are part of the family, and you don't want to leave them alone."




Person 2:

"I would love to have an app for pet owners. I haven't searched if there's one, but it would be very helpful."
•

We built 4 features

plus a profile section for the app.

I did 6 different usability tests,

having fewer issues after each test, constantly iterating, and considering more usability tests to come.
• We haven't launched the app yet, but If we do, I would like to measure:

number of app downloads, number of sign-up rates, monthly active users, tasks success, referral, track satisfaction. Do users need the Android app? Do they recommend it to other pet owners? Do they write reviews in the AppStore? Which features are most used?

 Among other metrics.
Retake and analyze what we have with time and distance perspective.

Test each feature one more time, improve and finish developing the app, launch it, and keep iterating.